Degree Requirements
Degree requirements are the same as those of the Global Health Track which provides maximal flexibility to develop an individualized program. Graduates of the Global Health MPH program will be able to approach global health issues with a solid grounding in basic public health disciplines. They will have practical experience, be skilled in applied research, and have an understanding of the sociopolitical matrix of health determinants of low and middle income countries (LMICs).
Admission Requirements
All applicants must be the minimum qualifications,
Competitive applicants will have some health-related work, research, or volunteer experience in an LMIC and plan to integrate global health research or practice into their medical career. Applicants who already possess a MD or are medical students at a school other than the UW should apply using the standard process (via MyGrad).
Eligible applicants to the Concurrent MD/MPH track include University of Washington medical students who are currently enrolled at a WWAMI site, are enrolled in or planning to enroll in the Global Health Pathway, and are in good academic standing.
Additionally:
UW SOM students are expected to have completed their Patient Care Phase and taken STEP 2 before matriculating into the MPH program. Students who are accepted into the Global Health MD-MPH program require approval from the UW SOM prior to matriculating into the School of Public Health. During their time in the MPH program, these students are considered "on leave" from the UW SOM.
Students who are interested in pursuing a Global Health MD-MPH degree should discuss details of their academic standing and SOM scheduling implications with the Director of Proactive Advising (somproadv@uw.edu/(206) 543-9345) prior to submitting an application.
Application Instructions
Students currently in their 2nd or 3rd year at the School of Medicine should submit one PDF file that includes the required documents in the order listed below to ghmphadv@uw.edu. Please be sure to include your name at the top of each document.
Resume/CV*
Statement of Purpose
Personal History Statement
Supplemental Questions
Funding & Year in Medical School 
Additional Letter of Recommendation (optional)**
All other required materials will be forwarded by the SOM to the Department of Global Health. 
NOTE: When submitting your application materials please include in your e-mail the names of two recommenders from your AMCAS application whose letters you would like us to use for your MPH application. If you decide not to submit the optional additional letter of recommendation then please include the names of three recommenders.
*It is recommended that students submit an updated Resume/CV if they have obtained additional experience since applying to medical school.
**It is also advisable to submit at least one new letter of recommendation from someone who can speak about any global public health experience a student may have. The recommendation letter can be sent from the person writing the recommendation directly to the Global Health MD/MPH Program at ghmphadv@uw.edu. 
Detailed information on the application documents 
Resume/CV (no more than 3 pages)
Statement of Purpose (The below questions are meant to assist the admissions committee identify applicants that are best suited to our program. Each question should be answered in 200-500 words.)

​ Why are you seeking an MPH? Why are you applying to the University of Washington? What skills do you hope to gain? How does this degree fit within your career trajectory?
Our program is fast-paced and rigorous in quantitative and qualitative methods, writing, and critical thinking. Please give an example of how you persevered in an academic or work situation where you might have been under-prepared for what was being asked of you.
Please describe an example of a global health problem you have encountered and your response to that problem.

Personal History Statement (This response should be no more than 200-500 words.)

Your Personal History Statement gives you an additional opportunity to add individuality and depth to the information provided in your Statement of Purpose.
This statement should not be the same as your Statement of Purpose.
Your Personal History Statement can include information about who you are as a person, your family or cultural background, socioeconomic status, educational challenges, and experiences growing up. It is intended to give you the opportunity to provide a narrative about your lived experiences.

Supplemental Questions

​Please share your areas of interest in global health and list any faculty (if any) you have already connected with for potential research (thesis) projects.
Please let us know if someone referred you to our program.

Funding and Year in Medical School

If you have applied for or received a fellowship, scholarship, or funding of any kind which you will be using to help fund your MPH, please indicate the funding program name, program director or contact person if any, and your current status with the program.
Please indicate what year you are currently in at the SOM.
Program Timeline
Students in this track complete one full year (three academic quarters) of MPH-only coursework after the second or third year of medical school. International work occurs in summers, between rotations, in specialized rotations, or by taking time off. Due to the necessity of meshing MPH and medical school curricula, MD/MPH students work closely with their academic advisers to ensure completion of all requirements.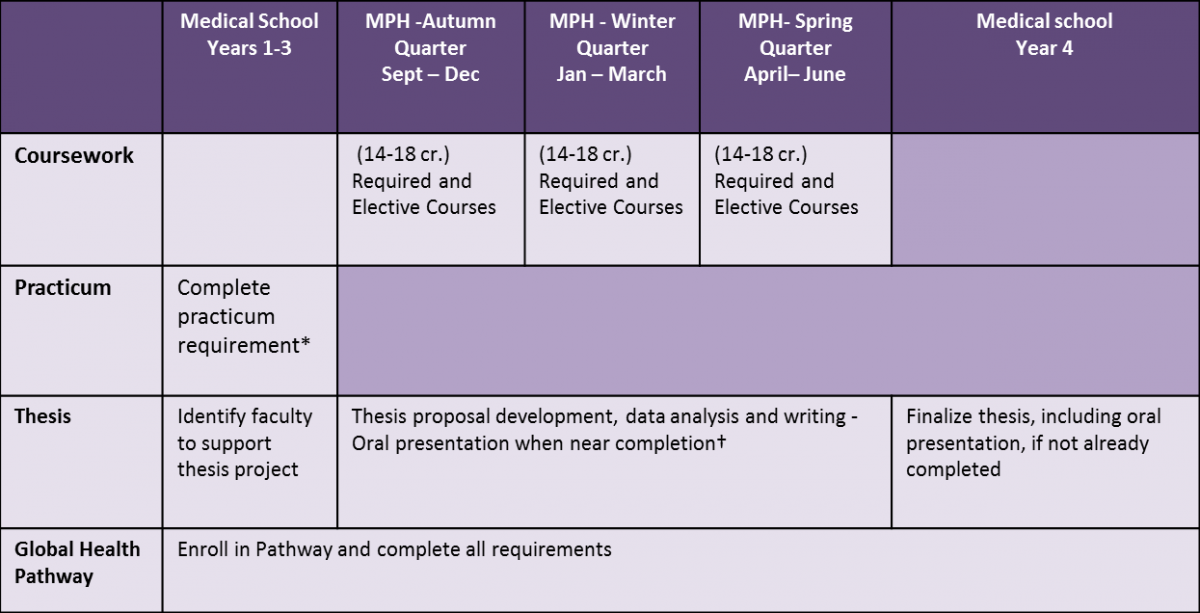 * Practicum requirement may be fulfilled by the Global Health Immersion Program (GHIP) or by a Rural Underserved Opportunities Program (RUOP) experience that incorporates cross-cultural learning. For more information on this, please email ghmphadv@uw.edu. 
† Ideally, students will complete their thesis before MS Year 4, although many students need some time in this year to complete their write-up and prepare for the oral presentation.
MD/MPH Contact Information:
Jason Beste, MD/MPH Track Director (for academic oversight and faculty advising for admitted students)
ghmphadv@uw.edu, MPH Staff Advisor (for questions on MPH eligibility and admissions)
somproadv@uw.edu, UWSOM Director of Proactive Advising (for MD schedule implications and other MD student inquiries)
dghsom@uw.edu, Global Health Pathway (for questions about the School of Medicine Global Health Pathway)