Join us on Friday, June 10!
The 2022 DGH Graduation Celebration will honor our graduates in the following programs:
Master of Public Health
Global Health Metrics & Implementation Science PhD
Pathobiology MS and PhD 
We also welcome back our alumni from the classes of 2020 and 2021 who would like to attend this in-person event 
Program Information
4:00 p.m. Graduates arrive for class photos
4:45 p.m. Doors will open to the public
5:00 – 6:30 p.m. Graduation Celebration (Hogness Auditorium, Health Sciences Center)
Due to the rising number of covid cases we have made the difficult decision to refrain from serving food after the program. We invite you to mingle and take photos at our selfie station.
2022 Graduation Reference Guide
Live streaming link:
Program Booklet
Frequently Asked Questions:
Q: What is the Public Health Guidance for graduation?
A: All public health guidance will be followed for this event. As the situation with COVID-19 is rapidly changing, please plan to check the UW Vaccination Policy and the UW Face Covering Policy for updates as our celebration nears. In addition, we ask that all attendees self-monitor for COVID-19 symptoms and plan to stay home if symptomatic or if instructed to isolate or quarantine by a public health professional. 
Q: How do I get disability access and accommodations?
A: The University of Washington is committed to providing access and accommodation in its services, programs, and activities. To make a request connected to a disability or health condition contact Department of Global Health, basiao@uw.edu, by May 31. Hogness Auditorium is accessible by elevator from the main lobby and features ramps on the sides and center that lead to the front of the space.
Q. Why isn't Zoom allowing me in the room?
A: You need to use an authenticated account to access the zoom:

Open the Zoom desktop client on your computer. If you do not have the Zoom desktop client on your computer, you can download it here

Open the Zoom desktop client and click Sign In
You have the option to sign in with Google, Facebook, or their own personal Zoom account. To
sign up for your own free account, visit zoom.us/signup and enter your email address. You will
receive an email from Zoom (no-reply@zoom.us). In this email, click Activate Account. Then
return to the sign in and select the sign in fields on the left.

Transportation 
Light Rail:
The UW Link Light Rail Station is the closest station to Hogness Auditorium. Riders may use the SoundTransit website to plan their trip.
The approximate walking time from the UW Light Rail Station to Hogness Auditorium is 10 minutes.
Trains arrive every 8 minutes from 3:00PM to 7:00PM on Friday, June 10.
One-way fares range from $2.25 to $3.50 depending on how far you travel.
Please visit the SoundTransit Routes and Schedules page for more information.
Bus Lines:
Ride Share:
Riders may provide the following address to their driver to be dropped off at the UW Medical Center main entrance next door to Hogness Auditorium: 1959 N.E. Pacific St., Seattle, WA 98195
Parking:
Campus parking for all graduation events, including department events, will require a parking permit. We highly recommend parking by Husky Stadium (lots E12, E19, E20), as it is the closest option for on-campus parking. To park off-campus, please plan to arrive early as parking can be difficult to find around the UW Campus. Metered street parking is available along N.E. Boat Street and Brooklyn Avenue N.E. 
Graduates will be able to pre-purchase parking permits ($17) from the UW Commencement page (from May 4 – May 22). If you wish to guarantee parking in a particular lot, it is recommended that you pre-purchase a permit, since some lots may sell out. Day-of-event parking permits will cost $1 more and will require that you stop at the gates to purchase the permit. 
Map to Hogness: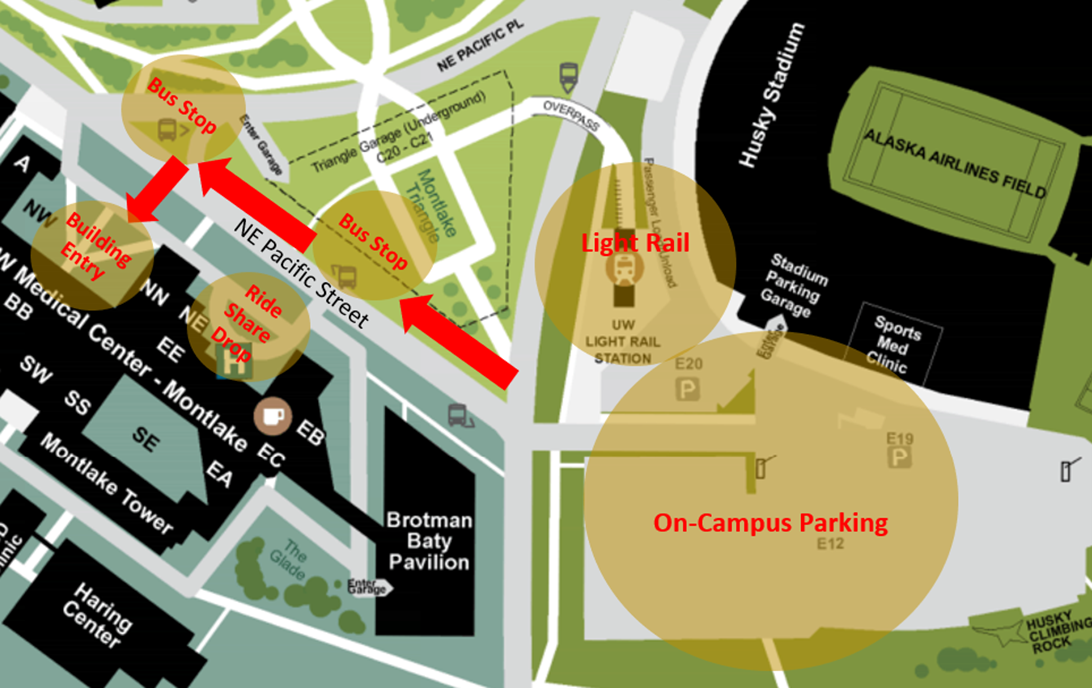 Questions? Please contact Julie Beschta - jbeschta@uw.edu
We look forward to joining you in-person and online on June 10th for a celebration of the remarkable accomplishments of our graduates!